I've been trying to model the front suspension in Kinematics for a Forces Off simulation.
I've been having trouble since the lSpring, lDamp, lBuf, lStabi values are not decreasing at all.
After a bit of searching i believe there is an issue with my geometry concerning the values of the Rocker Arm since we don't use a usual Rocker arm design. I have checked my simulation settings.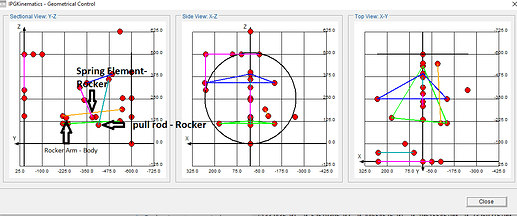 I think that the problem is that the program doesn't understand how the Rocker Arm is rotating in reference with the spring assembly and the pull rod.
I don't know how to tackle this issue.