Hi,
I am from a E-Formula Racing team called EESC USP Tupã and I was trying to simulate a failure condition in our transmission system, in such a way that if, for some reason we face a mechanical problem, we'd be able to restrain our motor torque, basically stopping our vehicle. We have a single gear transmission, connected directly to our rear wheels.
First I've imagined a condition where the transmission gets stuck, which would cause the wheel to stop rotating. In this situation, as the motor would rotate and the wheel wouldn't, the gear ratio would be infinite.
I tried to develop a situation like that in my Simulink Model. Using a Combox, I could change my condition between "OK" and "Failure". When pressing the latter, the gear ratio would assume a nearly infinite value. But when checking this implementation in IPGControl, I noticed that, despite changing our gear ratio (which was observed in IPGControl), the wheel velocity didn't change at all.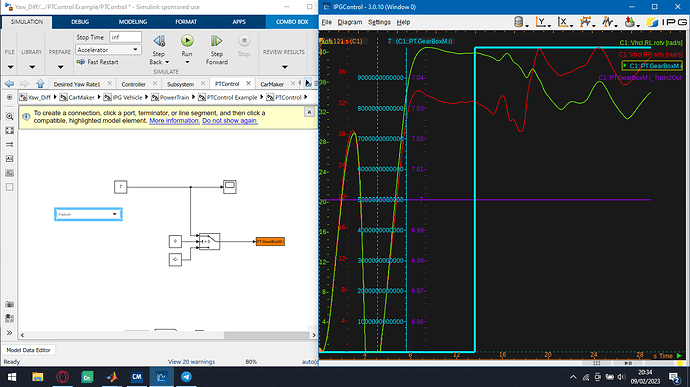 Here PT.GearBoxM.i is set to 7 (default value) and when I click the "Failure" button it goes to 9999999999 (infinite), but nothing seems to change. I also tried to do it with PT.GearBoxM.i_TrqIn2Out, but it again didn't seem to work.
Why didn't my gear ratio affected my wheel roational speed when I switched it while simulating it? Carmaker doesn't allow real time changes like that? Am I doing a stupid mistake?
If so, how could I create and test a failure mode control in Carmaker?
Thanks in advance,
Guilherme.