Hello there,
I am currently trying to get the IPG FSAI package running but it somehow does'nt work.
I am using the FS_autonomous_Legacy project, a Nvidia GTX 970 and the 450 Nvidia drivers.
I followed the instructions of the webinar but as soon as I hit the connect button under Configuration/Status this error pops up: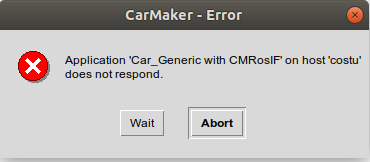 I dont really get what is going on here, in the webinar that did not occur.
I continued ignoring the error and tried to start the simulation when I got another error pop up saying: "GPU-Sensors 1, 2, 3: Error Timeout during startup."
Is there any way to adjust the timeout value? Or is it due to my hardware?
As far as I understood it from the release notes my hardware should be sufficient but could it be that I am wrong?
I am really looking for your answers!
Cheers!
costu