Hello,
I am trying to use CarMaker for Driver-In-The-Loop simulation via the cockpit package.
The steering wheel I use is a Logitech G920, and initially everything seemed to work fine.
However, at some point the car started to behave weirdly when using the cockpit package and I found out the steering wheel angle switches back and forth between my inputs and the inputs calculated by the IPGDriver. It can be seen in this picture: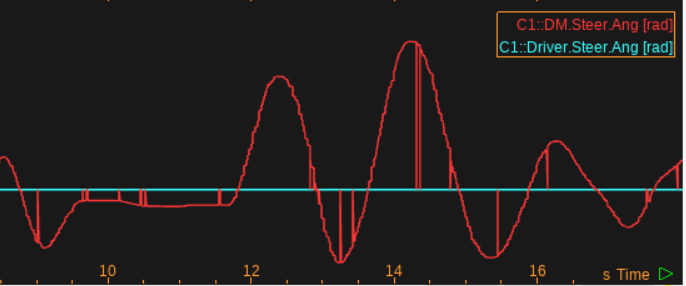 Your support helped me find out that the issue seems to be related to the update rate of the steering wheel. The DM.Steer.Ang value seems to only get updated around every 40 ms via DVA by the cockpit package, and after 40ms the value is timed out and the value calculated by the IPG driver is used.
The logitech device should be able to send updates much more frequently, and it actually seemed to do so before.
Any help on how to fix this issue (ideally increasing the update rate) would be appreciated.
Thank you,
Jonathan