Dear all,
We would like experimenting with Carmaker HIL setup by connecting NVIDIA Jetson Xavier NX as ECU.
We have Carmaker 12.0 version with Xpack4 as RT-System.
Jetson board has MIPI CSI2 connection to which we can not connect farkra connectors available to connect Video Interface Box(VIB)'s four channel output .
Trying to setup the HIL setup depicted in below diagram (replacing camera ECU with Jetson board).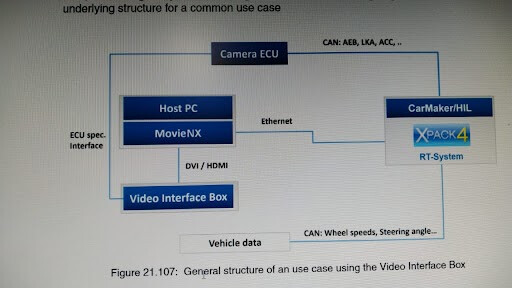 What are the possible approaches to get real-time video generated by carmaker HIL setup at Jetson board? Will HDMI connection between MovieNX PC to Jetson board give me real-time video frames at Jetson board for processing?

Controller algorithm running on Jetson board also needs sensors inputs like LIDAR, RADAR input.
How to get this data at Jetson board. Can we get this data over CAN bus at Jetson board?
If yes, how to synchronize the video frames (received over ECU interface/HDMI) and sensor data received over CAN bus)?
Help in this regard is highly appreciated…
Regards
Danny